Features:
Health:.The latest health news for your family and advice from medical experts in Marin. Special BabyHealth section with key articles on babyhealth.
Holidays: The seasons that make everything extra-special. Things to do and things to think about.
Parenting: Articles on parenting and relationships from local experts in the field.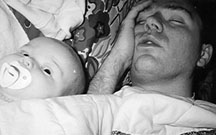 Check out Daddy's Domain for a father's perspective on all this.
Pets and Animal Friends: Pets, kids, zoos and you. Animal education and welfare. Original articles and local resources.
Ask an Expert: Parenting and family dynamics questions fielded by local experts. Coming soon!
Milestones: What to expect at each stage of your child's life - and the variety of growing experience.
Adoption & Fostering: Parenthood without stretch marks! What fostering and adoption mean to you, your child, and your family. Articles by local parent-professionals.
Safety: Child Safety, Child-proofing, Emergency Preparedness, Self-Defense. Link to Alert page with food and product recalls.

Book Selection: Parenting with Love and Logic by Foster Cline, M.D. and Jim Fay. This well-known child psychiatrist has written a book to help parents raise kids who are self-confident, motivated, and ready for the world by teaching them responsibility and the logic of life by giving them the opportunity to solve their own problems from the earliest possible age. Click on the bookcover to order your copy today.