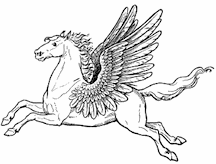 Pegasus
Image from Dave's Mythical Creatures & Places http://www.eaudrey.com/myth/pegasus.htm
Lesson Three
Create a picture of your creature, or of your creature in action in KidPix. Save. Export the image as a jpeg to the desktop. Close Kidpix. Add a new slide to your slide show and drag the .jpeg image into it. Delete unwanted boxes. Save.
Add Audio:
Open GarageBand. Click "New Project". Name the project "title" and press Save.
In the upper menu, go to Track, then scroll down to New Track. Click the middle "Real Instrument" and then the blue "Create" button at bottom right.
Go to the bottom of the screen and press the

red button

to record your title and first name. Example: "Welcome to The Hydra, a presentation by Shirley".
Click on the Loop icon on the bottom to bring out the music loops. Choose one to be the background for your title track and drag it to the stage. You can cut and paste loops to add more, and you can delete ones you don't like. Click File -- > Save
Go to the top menu item "Share" and "Send Song to iTunes". Click the blue "Share" button at the bottom right of the dialogue box. Let the song export to iTunes. Close iTunes and GarageBand.
Open Keynote. Open the media browser by going to the top menu item "View" then scroll all the way down to "Show Media Browser". In the media browser click on the Audio tab and then iTunes. Drag the title icon onto your title slide. Save in Keynote. If you have time, add sound to another slide. Save.