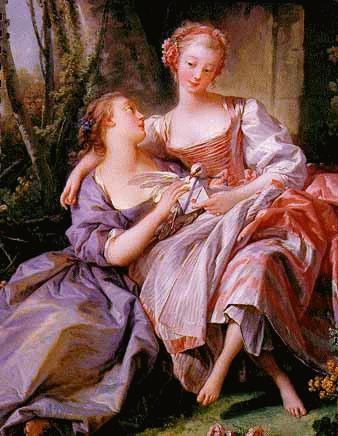 Ariettes Oubliées: IV
Il faut, voyez-vous, nous pardonner les choses.
De cette façon nous serons bien heureuses,
Et si notre vie a des instants moroses,
Du moins nous serons, n'est-ce pas? deux pleureuses.
You see, we need to let things go,
Forgive, to be at peace.
And if, at times our life is sad,
At least we'll weep together, no?
O que nous mélions, âmes soeurs que nous sommes,
A nos voeux confus la douceur puérile
De cheminer loin des femmes et des hommes,
Dans le frais oubli de ce qui nous exile.
Oh, to intermingle, sister souls,
Confused desire, sweet child-like ways,
and stomp away from grownup woes
in newfound Lethe forget each damning phrase.
Soyons deux enfants, soyons deux jeunes filles
Éprises de rien et de tout étonnées,
Qui s'en vont pâlir sous les chastes charmilles
Sans même savoir qu'elles sont pardonnées.
Let's just be children, little girls,
By all amazed and never smitten,
Who in chaste bowers fade to gentle pearls
Themselves not knowing that they've been forgiven.
---
by Paul Verlaine, 1874
painting "The Love Letter" by François Boucher, 1750
translated by Damsel Plum, 1996
---
Back to Sapphire Salon
---