GEOSPY #1
<![if !supportEmptyParas]> <![endif]>
Date: Monday, January 12, 2004
Your mission, should you choose to accept it, is to find the whereabouts of one Cornelius Feistmeister, notorious armadillo-napper and Gameboy Genius Extraordinaire.  You and your Geospy teammates should follow the clues below to try and reveal his whereabouts.  Inform Agent Wallace when you think you have it.
<![if !supportEmptyParas]> <![endif]>
Clues:
<![if !supportEmptyParas]> <![endif]>
Cornelius is an avid fan of opera and was last seen attending a performance of Madame Butterfly at the Palacio de Bellas Artes in this capital city

Our GPS (Global Positioning Satellite) tracker last traced Mr. Feistmeister to the following coordinates: 19o

 

26' N, 99 o

 

7' W (use a globe or atlas)
Cornelius majored in Romance Languages in college so he can speak fluently with the natives of this major city.

 

One of our agents informs us that Cornelius reset his watch to Central Standard Time when he was headed to the airport in Rome, Italy two days ago.
<![if !supportEmptyParas]> <![endif]>
<![if !supportEmptyParas]> <![endif]>
<![if !supportEmptyParas]> <![endif]>
Where is Cornelius?  ________________________________________________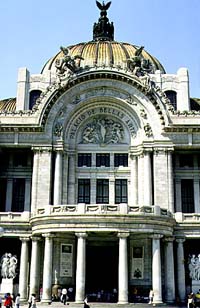 Copyright 2004 Alfia Wallace